Life is unpredictable. If you even think that you or your loved ones are in danger or need any private information on or about someone, you know that you would have to hire an investigator for such services. Executive Security Concepts is a leading company that provides uniformed security officers as well as a private investigator for our clients. We are a consultancy firm on security agency; hence we can provide many security contractors in the country and abroad depending on your requirements. We have the trust of our clients as we hire only the best people with great qualifications and good experience.
Below we have mentioned the 2 chief purposes for which we offer private investigation services. Take a look.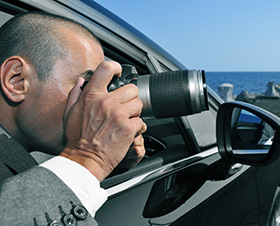 Whether you have a marriage infidelity case, child custody battle, or a long-drawn divorce case; we would be more than happy to help you out in any situation. Our team has a great deal of experience in these kinds of cases and hence they are the right person when you want to find out the truth. You will be fully informed of whatever you want to know. Many times, it is our investigation that brings about a new angle in the cases and can turn the tables in the court proceedings.
Corporate private investigator
We also provide our services to the corporate sector; be it a small business owner or a large firm. If you want to do a background check of any particular employee or a prospective business partner, or you want us to look into certain other transactional meetings, we do them all. Our research skills have brought out any information relating to fraud, embezzlement, and even employee theft.
So, if you are looking for a private investigator for your personal or official purposes in the regions of Richmond, VA, Ashburn, VA, Alexandria, VA, Fredericksburg, VA, Charlottesville, VA, Salem, and VA, you can give us a call at 540-314-4098